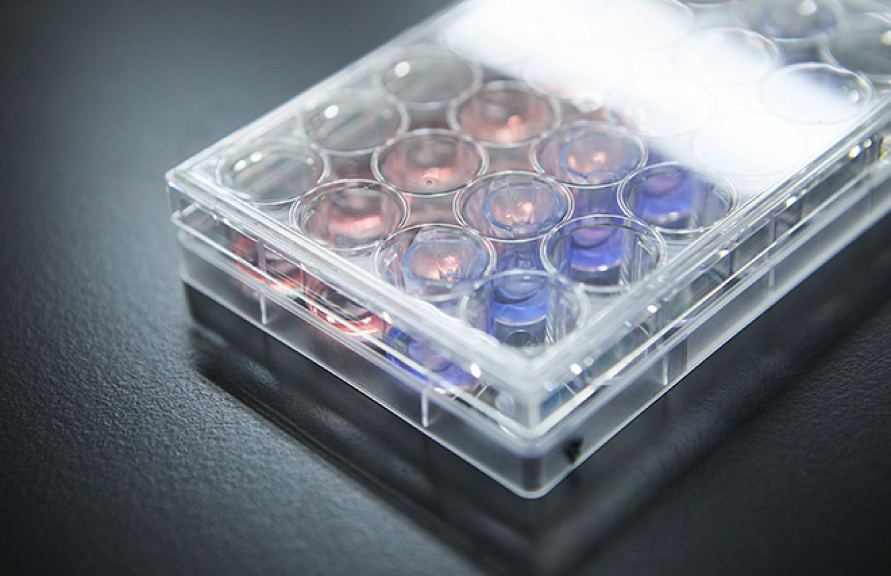 Our utmost priority is to develop products offering safety and reliability, so that haircare professionals and their customers can use these with peace of mind.
Milbon's Safety Assurance System for Our Customers
Not only do Milbon's products come into physical contact with the hair and skin of our customers, but also with the hands of haircare professionals a number of times a day. It is of our utmost priority for products to meet rigorous in-house safety standards, ensuring that everyone coming into contact with these can use them with peace of mind. We are constantly striving to improve our safety assurance system through postmarketing surveillance and thorough pursuit of advanced safety testing methods.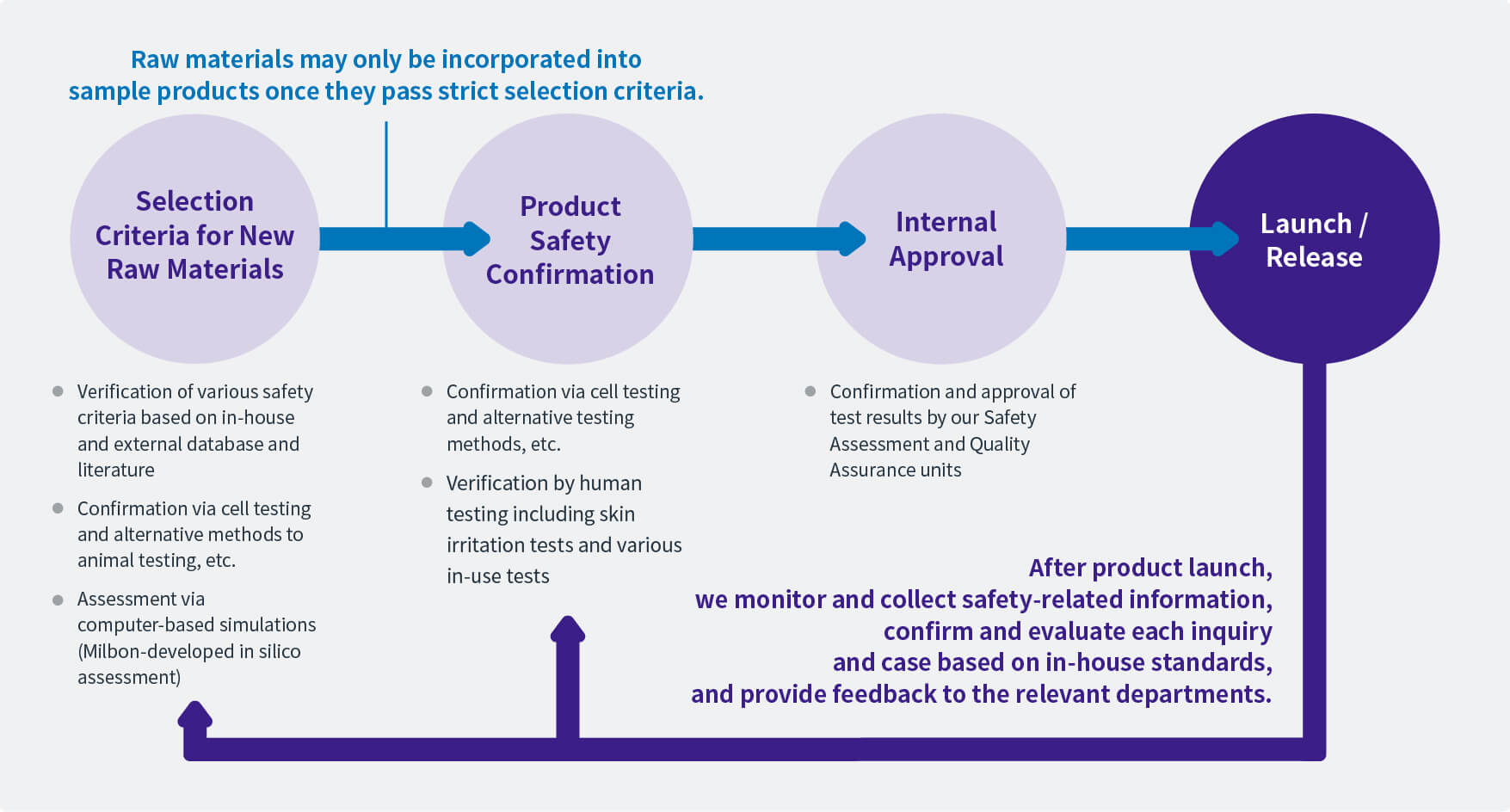 Safety Research
High safety standards and original testing procedures providing peace of mind for at-salon use
Milbon products, which are intended for use in salons, must be of high safety levels commensurate with their frequent use by haircare professionals on a daily basis.
For this reason, we have established safety standards for cosmetic raw materials and ingredients used in our products. Based on our accumulated knowledge from years of salon research and work of haircare professionals, Milbon safety standards are built to ensure highest level of safety. A candidate material may be incorporated into a formulated product only after rigorous evaluations by both our Safety Assessment and Quality Assurance units.
Here, the first step is to conduct research into literature and databases from both in-house and outside sources for safety information. Then, we use cell testing and alternative methods to animal testing to confirm sufficient safety levels. We also carry out a variety of in-use tests tailored to actual use environments, as well as skin irritation tests (conducted at an external testing facility), with their results assessed by dermatologists.
Only those candidate materials that have passed these strict tests are incorporated into formulated products and allowed to come into contact with customers.
Safety testing with alternative methods to animal. Safety testing without sacrificing lives.
The movement to abolish using animal testing for safety assessment of cosmetics, including quasi-pharmaceuticals, is gaining momentum worldwide. Milbon stands with this movement and does not presently conduct any animal testing, including outsourced testing*. In addition, we use alternative methods to animal testing to test and ensure the safety of our products, using cell cultures, artificial skin cultures, and other techniques.
Excludes some instances when social accountability arises or when required by a local government agency in some countries.
For all people to always enjoy hair coloring, without concern for irritation.
Hair coloring is a universally enjoyed practice by people of all ages. Quite a few of these make their first-ever visit to salons because they would like to have their hair colored.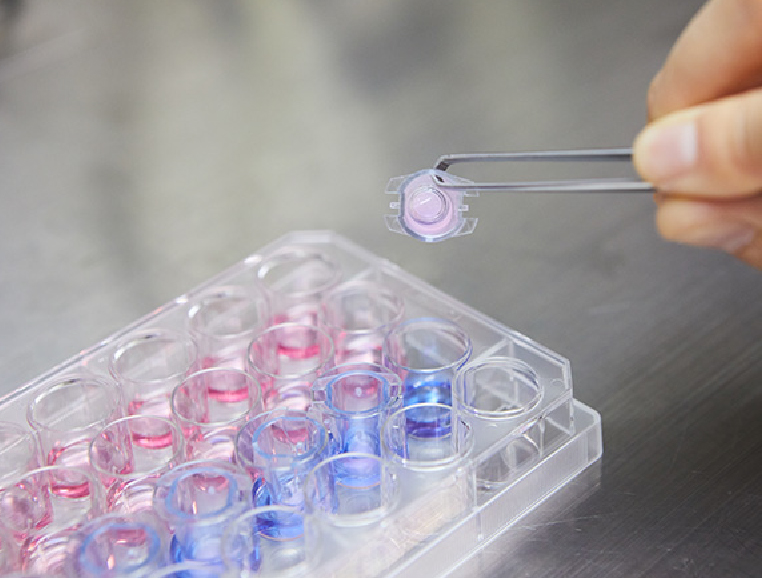 However, it is also true that some can feel irritation on their scalp when coloring their hair, which can lead to longer hair coloring cycles or even interruptions. It is also reasonable to expect that, as people age, they will have more opportunity to dye graying hair, and therefore more often experience irritation.
However, it is also true that some can feel irritation on their scalp when coloring their hair, which can lead to longer hair coloring cycles or even interruptions. It is also reasonable to expect that, as people age, they will have more opportunity to dye graying hair, and therefore more often experience irritation.
In an effort to solve this problem and support people to enjoy hair coloring without concern, Milbon is engaged in research to suppress scalp irritation when dyeing hair.
While searching for an alternative method to these questionnaires, the Milbon research team discovered the regenerative skin model. The team tirelessly engaged in research to unify assessment results for irritation felt by humans with the regenerative skin model, utilizing artificially regenerated sheets of epidermal cell skin cultures.
Their work was successful in quantifying the irritation felt during hair coloring using this regenerative skin model. This technology is now widely used in the development of hair coloring products.
Incorporating new technologies to establish a mechanism for highly accurate safety assessment.
Safety assessment methods friendly to animals, people, and the Earth.
Technology is rapidly innovating in a range of fields, such as chemicals and information technology. Milbon stays apprised of technological trends around the world and actively incorporates new knowledge for the development of technologies that will enable even more accurate and efficient safety assessment, and for research into the establishment of new testing methods.
In particular, we have been more recently working on the development and operation of assessment technologies and test methods utilizing new materials and data that will facilitate more accurate safety assessment.
In order to ensure a higher level of safety, Milbon has been conducting research on computational prediction of safety.
One such study is a predictive research project using the Hansen solubility parameter method*.
The Hansen solubility parameter method is used to calculate the "affinity" of substances to each other. We have developed a highly accurate method for predicting the potential of a given substance to cause eye irritation by calculating the substance's affinity with corneal cells.
Applying computational methods without the need for animal testing, this safety assessment is friendly to animals, people, and the Earth.
This research was conducted under the technical guidance of Professor Hideki Yamamoto, Faculty of Environmental and Urban Engineering, Kansai University.
Product Reliability Verification
To maintain consistently superior quality in any environment around the world.
Milbon's business extends to the far corners of the world. One country or region may have a dramatically different environment than another, whether they be hot or cold, dry or humid, and so on.
At Milbon, we rigorously verify the reliability of our products to ensure they are consistent in maintaining high quality, even in diverse environments. We only sell products that have passed our in-house reliability tests, which include the following.
Accelerated and severe testing is conducted to check for changes in a product's ingredients and formulation by storing it over long periods under a variety of conditions, from freezing to high temperatures, as well as in direct sunlight.
Apart from accelerated and severe testing, finished products are stored at room temperature for more than three years, where their condition is checked on a regular basis.
In addition to scientific measurements such as pH, viscosity, specific gravity, and concentration of active ingredients, we conduct human sensory evaluations to test areas such as color, scent, texture, feel, and dyeing.
In the production stage, we use our Factory Assessment Rooms, designed to mimic the environment of a salon, to assess various elements of actual use of a product via specialist evaluators trained in beauty techniques. These assessments are carried out at specific timings, including during the first production run of a product.