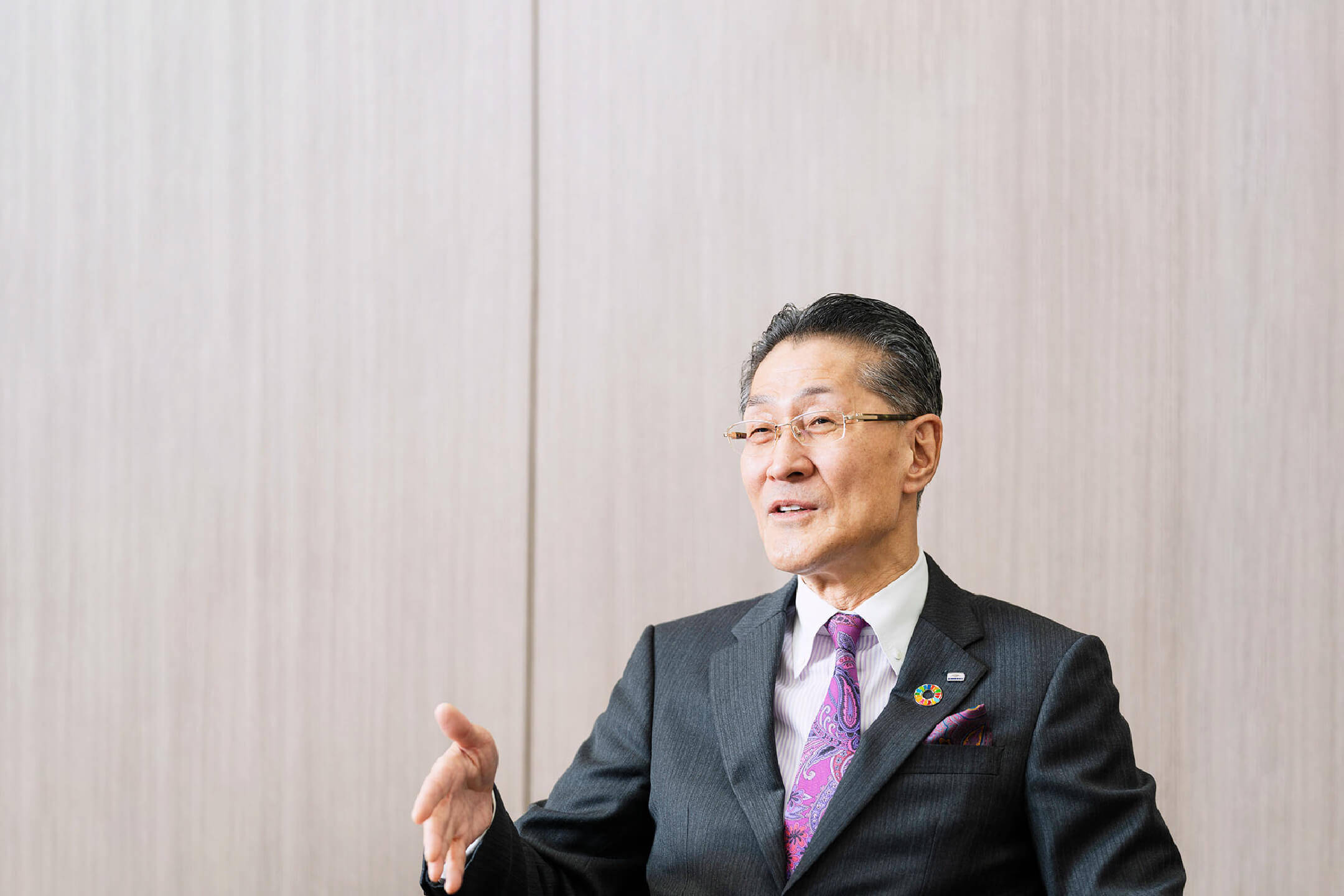 Ryuji Sato
Representative Director, President & CEO
MILBON Corporate Group
The Japanese economy is said to be undergoing structural changes. The factors driving these changes include a shrinking market due to a declining Japanese population, the shift to digital technologies and technological innovation, the movement toward sustainability, changes in people's values and lifestyles, and more. Amid these, the greatest effect the COVID-19 pandemic has had on the economy is the acceleration of these structural changes.
In order to keep up with the pace of these changes, Milbon implemented our "18-Month Missions!" initiative starting in June 2020, accelerating our DX strategy and other measures. Despite suffering poorer performance in 2020 due to the COVID-19 crisis, this initiative helped us to mount a strong recovery and book record sales in 2021. In the graph of our Consolidated Net Sales Over Time, we can see a straight line leading up from 2019 to 2022, showing that Milbon is firmly on the growth trajectory it has been on since before the COVID-19 pandemic. After building up speed on this runway, Milbon has taken off with its new 2022-2026 medium-term business plan.
In its first step, we will bring about "Salon-based Social Innovation" in Japan to build the new form and function of hair salons in response to a changing society. For some time, Milbon has been helping salons strengthen their business foundations. Even now, with the COVID-19 pandemic, we have found great advantages and potential in salons. These are found in their very nature, in which people have to physically visit, stay for a long time, and revisit frequently. By taking advantage of in-person interactions and potential to reach local communities, we will establish a new form and function of salons in the eyes of consumers and society at large.
For example, Milbon encourages salons to establish more pleasant work environments that help them attract and retain more talented stylists; to offer products and services tailored to their customers' specific needs; and to communicate effectively and with immediacy via social media.
This transformation comes in two pillars.
The first pillar is the Beauty Platform Plan. At the core of this plan is the Smart Salon Strategy, which proposes the concept of the "Smart Salon," a salon space providing a full range of beauty services for an innovative customer experience through the fusion of digital and reality. We will expand Smart Salons across Japan in collaboration with salons that share the same aspiration. Furthermore, the Beauty Life Care Strategy involves the development and rollout of products to help people "to live beautifully" in the three fields of hair care, skin care, and beauty health care. With the aim to pioneer in the industry, Milbon will continue to create innovative platforms for living beautifully by integrating these professional products with our DX strategy such as milbon:iD, which allows customers to make purchases at any time.
The second pillar is our Sustainability Commitment. We are committed to building sustainable cities and communities as part of achieving a sustainable society, through our dedication and support for salons. Needless to say, as a manufacturer, it is of the utmost importance to continue innovations within our own domains. We will also proactively take initiatives to address social issues through all possible measures, such as developing a carbon-neutral production system and responsibly procuring raw materials.
Our medium-term milestone is to become the leading manufacturer in Asia and in the top 5 worldwide by elevating the value of industry professionals, with the ultimate goal to become the world's No. 1 professional hair care manufacturer. Beauty is culture itself, rooted deeply in the local community. With that in mind, we are building development and production systems over the medium- to long-term, for and tailored to each of seven regions across the global market: Japan, South Korea, Greater China, ASEAN, North America, the EU, and the Middle East. We will explore and realize the unique beauty of each local community through collaboration with salons.
Find Your Beauty.
This is Milbon's corporate slogan. We will build a future where people can live beautifully with a sense of enrichment. In realizing this, we will craft the new form and function of hair salons to meet the demands of the times ahead. Resolute to make these contributions, we at Milbon will continue to work alongside salons as we step into the future together.